How to Choose the Right Branding Agency
Choosing the right branding agency can be tricky because there are so many options in the market, but finding the perfect creative enthusiasts from them to suit your business goals is tough. In this article, we explore what a branding agency is and the 4 criteria you can implement to determine the ideal agency for your branding requirements.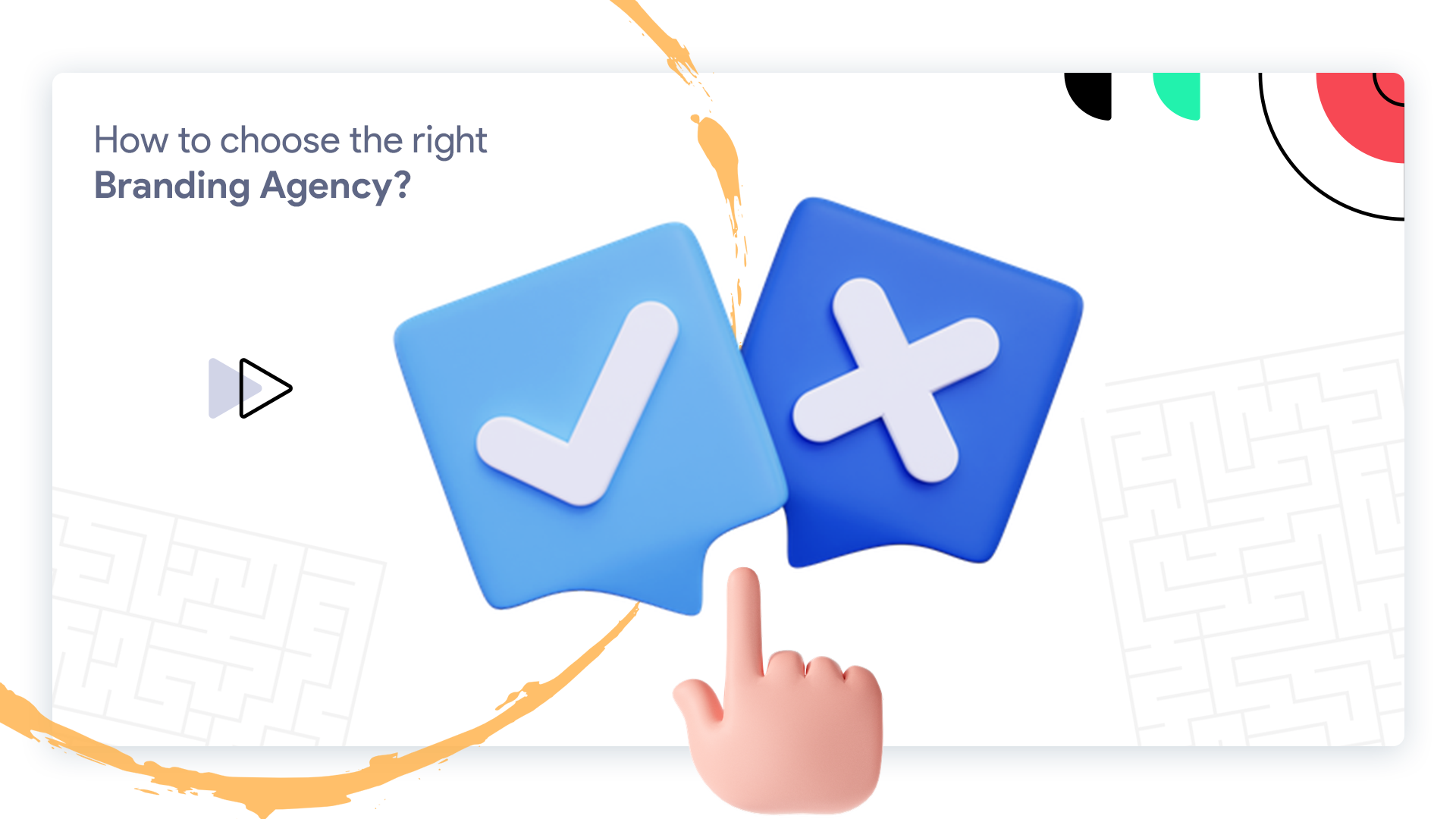 What Is a Branding Agency?
A branding agency provides more than just a logo or package design, understanding the fact that having high-quality products and services is only the cherry on top of the ice cream. The ice cream is the company's values, its personality brought to life, and its brand message. It is how it approaches its target audience and makes them feel. Finally, it is how it demonstrates its position in the market – are they an amateur, start-up, or large corporation?
A branding agency should be equipped and skilled enough to go above and beyond the visuals. It has to be able to strike emotions while providing brand services. They should cover all aspects – from creating the brand strategy to ensuring the brand grows through the branding efforts!
4 Criteria to Select Your Ideal Branding Agency
It is vital to understand that not every branding agency is for you and that's not a bad thing. Branding is an emotion that differs from brand to brand. How branding makes your customers feel depends on the agency you choose. You just need to put in the work to find the most suitable branding agency. We have developed an actionable plan to do so below.
Know What You Want
Are you looking for a website for your successful cupcake business that was previously only on social media? Then you're looking for two things: a website that can communicate what your cupcake business is about is the first. Making sure your website resonates with your social media because that's what made you grow is the second. This means you already have a working brand strategy. So, you're looking for creatives and experts that can assist you with website creation that speaks to consumers. So look for exactly what you want.
First Impressions Matter - (Love at First Sight!)
Back to cupcakes and websites: Let's assume that working with cupcakes makes the brand have a more jovial and fun approach. You want to look for agencies with creatives that share the same approaches, style of working, and talent. Imagine you see a quirky brand, colorful and bright, and you immediately fall in love with the branding agency. High chances are that they will be the right choice for your brand.
Similarly, more professional needs might make you lean towards a different brand, and trusting your gut instincts can be a good choice. Some branding agencies are a bore. They take tedious and long hours while others rush to produce quick but innovative branding solutions that take you smoothly to the destination of successful brands. At Alapra, we love talking a lot, so if you love being educated and informed about branding, albeit with a little fun experience, you'd probably like us!
Check Out Their Own Branding
A lot of branding agencies don't even make it to the short-listed options. Tacky websites, clashing colors, and an unclear brand message are clear signs that you must be cautious of. Neglecting its own branding speaks a lot about the company and its services.
I won't be hiring a company for website creation if their website has an awful user experience. That speaks volumes about what the brand thinks about its consumers. Have a look at their customer portfolios and garner an understanding of their brand's reputation before you decide to work with them. The right branding agency will make you feel confident in its services through its branding.
Absolute Branding Service Provider
Selecting a branding company that is an expert in the service you are expecting is great, but branding is a whole package. An agency that knows how to take brands from creating brand strategies through research and analysis to strengthening the brand with presentations, case studies, and more can help you scale your brand much better than an agency with a single focus despite being an expert.
We believe branding is built on emotions. If you feel the spark of being supported by a branding agency for all your branding requirements, that's the right branding agency for your brand!
The Shoe Has to Fit Cinderella!
The right shoe makes the perfect bride, and that is not a myth! Your brand values, personality, and the efficiency at which your business works have to be matched by the branding agency you choose. You also shouldn't be trying to wear shoes you can't afford. Neither should the shoes be too big or too small. Finding the most cost-effective option according to the size of your business will not overburden your brand. It will also ensure you reap the benefits of your investments.
Alapra is an absolute service provider in Toronto! Our creative enthusiasts strike the right cords to take your brand directly to your target audience. From finding the unique value proposition of your brand to personifying your brand, Alapra connects brands to people through powerful and impactful branding!