How Long Does It Take To Build a Website?
With website creation, people often want immediate results. Expecting a perfect website overnight not only sets a pathway to failure but also leaves the website builders burdened with an unachievable goal–whether it is a branding agency, your company's in-house team, or even yourself.
In this article, we've explained the answer to the question, "How long does it take to build a website?" by describing the intricacies of what factors and processes go behind website building. This will help those who need websites created for goal setting within a reasonable time frame. Stay tuned to find out about the factors and the process that affect the duration of website creation with effective branding.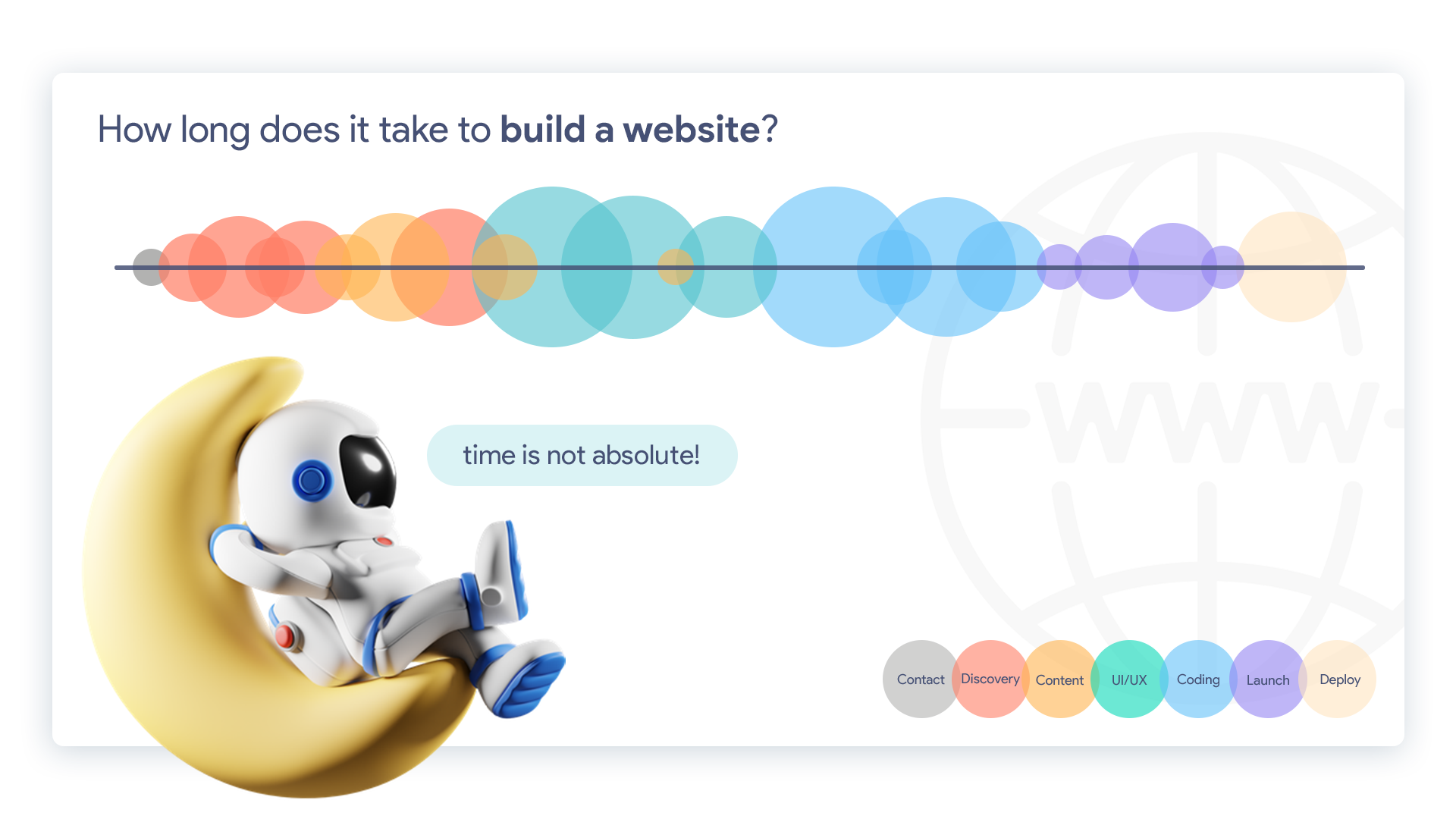 Factors that Affect the Duration of Building a Website
The process of website creation and branding might differ from agency to agency, person-to-person, and whatnot. But some aspects that affect how long it takes to build a website are clear-cut, which we have explained below.
Who Builds the Site
Imagine you want to surprise your beloved with a 7-course meal. Unless you or someone you know is a chef or has exceptional culinary skills, this is the job of a fine dining restaurant, luxury hotel, etc.—you get the idea. Similarly, if you want a high-quality website that isn't just functional, the builder of the website has a huge impact on how long it takes to build the site. Amateurs or money-minded businesses may do it fast. However, when you take into account the constant breakdowns and changes, a professional's duration will be unbeatable.
Complexity of the Website
Now imagine you don't want a 7-course meal but authentic poutine instead. Comparatively, the difficulty of making the meal reduces. You'll need less time for preparation, cooking, and serving. Similarly, websites with more landing pages, more moving elements, more complicated designs, etc., will increase the site's duration.
The Process of Building a Website
Now, let's get into the juicy part; the process. Whether you're making poutine or a 7-course meal, there are some steps you need to follow. Coupled with the right skills and duration, you can have a recipe for success or failure. The same goes for the answer to our question at hand, "How long does it take to build a website?"
#1 Discovery: Choosing the Right Agency
Take a hard look at yourself or your company. Are you a part of a small business, medium enterprise, or large cooperation? If you're not qualified enough to build your website and don't have a qualified in-house team, your next best option is a branding agency. Choosing a branding agency is part of the process and depends on the size of your organization.
For small and medium-sized businesses, the ideal option would be more affordable agencies with adequate experience. Larger organizations on the other hand would require companies with extensive experience and a commendable skillset to fit the entire company onto a site.
Depending on how efficiently you can research to find the most suitable agency, the discovery process can be the shortest or longest process of building your site. If you want to read more about how to choose the right branding agency for website building, we've got a blog ready for you to check out!
#2 Communication: Understanding Brand Goals
Without communication, none of your relationships will work out, whether it is family, friends, or businesses. Once you have figured out the purpose of your site, its audience, and what you intend to achieve with it, you need to communicate it to the branding agency you've chosen. Now that we've been discussing meals, let us explain.
If you want a 7-course meal to propose to your beloved, then the chef needs to be informed. They'll leave hints throughout the meal and set the tone until you pull the ring out. Just like that, if you want to generate a lead out of your site, you need to identify that goal and mould your website accordingly.
#3 Planning: Curating an Action Plan
Hors d'oeuvres, soup, fish course/appetizer, palate cleanser, main course, cold salad, dessert, mignardise, along with a coffee or drink of choice – Yes, a 7-course meal will include 7 items from the list above. Each item has its own purpose and order to be served in.
Similarly, you must prioritize which part of your site will be built first. You should also establish what the initial expectations are. The time taken to build the site will vary according to how long the action plan takes. This stage will include lots of research to understand which comes first. It will also focus on how the elements together will make the branded website useful for your business. Good user experience, brand awareness, website design, and budgets are just some of the factors of website building that can go wrong without a detailed plan.
#4 Content Creation and Modifications
Once the planning is done, the time taken to build the site gradually reduces. This only happens provided the first three stages are done effectively. A good website building and branding agency, clear website brand goals, and a sensible action plan.
At this stage, the website developer creates wireframes, prototypes, and or mock-ups. These show what the site could possibly look like. The developer sends them for approval before investing the time into creating the actual deliverables. You'll be provided with a few options to choose from, and the developer will head to the next stage based on the feedback they receive. In terms of the course meal, you get to devour a yummy sample meal and get it catered more to your preferences for the actual party!
#5 Development
The duration of this process will take longer depending on the factors we spoke of in the beginning; the expertise of the branding agency and the complexity of your site, and in total can take up to 3-6 months at a minimum. An excellent chef and your choice of food- a 7-course meal, poutine, just dessert, or whatever you're craving! At the end of the day, good choices, skills, and planning make a hearty meal at the right time. Sorry, we mean websites!
Amazing Things Take Time: But Not Too Long!
Speed doesn't guarantee success, and if it did, the tortoise wouldn't have won the race. With a branding agency like Alapra, we won't be as slow as a tortoise. Instead, we'll tactically build a site with excellent branding to showcase to the world what your brand stands for! A study by Digital.com found that 24% of small businesses agree that they don't have a website because they don't know how to create and run one, which is why an affordable branding agency like Alapra could be the perfect fit for them!
If you want to know more about website branding, please check out our blog on its importance. We follow the recipe for success and deliver your branded website in due time! Contact us for more information.